Oil consumption is one of the major environmental issues of today. Our economy and modern society are deeply reliant on oil and other related energy sources for various purposes, from transportation to heating and so on. However, when oil is consumed in excessive amounts beyond certain limits, it can lead to serious consequences for the environment and our long-term sustainability.
The main causes of excessive oil consumption are mainly associated with human activity, such as increased fossil fuel consumption for transportation and industrial purposes. Fossil fuel burning is the main contributor to air pollution and its emissions are the leading cause of climate change. Furthermore, excessive oil consumption also leads to an overdependence on natural resources, which, if done unwisely, can leave us vulnerable to shortages in the near future. Additionally, pollution from oil consumption can contribute to water and soil contamination, and can damage biodiversity and ecosystems.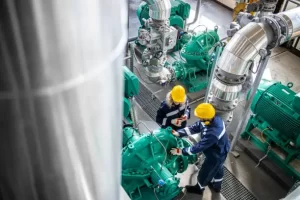 There are some solutions available to help solve the issue of excessive oil consumption. To begin, governments need to create policies, laws, and regulations that discourage the use of excessive oil and promote efficient energy consumption. This could include stricter fuel economy standards, incentives for people to switch to alternative energy sources, and bans on certain forms of fossil fuel burning. Furthermore, public awareness needs to be raised on the issue, specifically on how to reduce oil consumption and thus its negative environmental impacts. Furthermore, research and development of clean energy sources, such as wind and solar power, needs to be accelerated in order to further reduce our reliance on oil.
Another potential solution to the problem is to shift away from our traditional, linear economy model and to a circular one that can reduce our need for oil. For instance, by introducing the concept of a "circular economy", where we place a greater emphasis on repair, reuse, and recycling, we can reduce our reliance on oil and other resources as well as lower emissions. In addition, companies and other stakeholders should work together to focus on developing more efficient energy technologies that are both cost-effective and can help reduce our reliance on oil significantly.
Ultimately, the key to reducing excessive oil consumption is to look towards the future and create more sustainable systems and policies that will address this issue. This means investing in clean and renewable energy sources, educating the public on the importance of sustainable energy sources, and shifting away from our traditional, linear economy model to a more efficient, circular one. Only with a collective effort and commitment to sustainable solutions can we ultimately reduce our reliance on oil and ensure a healthier environment and a more secure